Traveling to China for the first time?
We share some of the little pieces of information that help first time travelers to China in this video. Expect the unexpected!..
---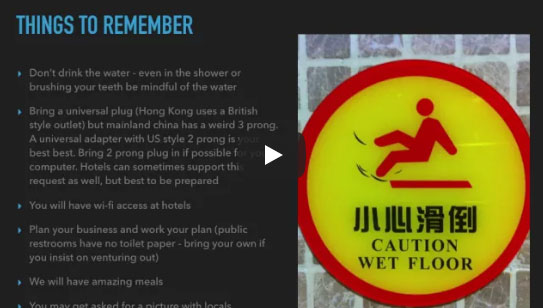 We share some of the little pieces of information that help first time travelers toChina in this video.
Expect the unexpected!
Don't Drink the Water.
Bring a universal plug for your electronics.
Hotels usually have good wi-fi access, but sometimes sites like facebook or youtube are blocked. In some cases they are not blocked if you or the hotel use a VPN.
Plan your business and work your plan. (This means where you go to the bathroom.)
Eat well.

Locals will often be curious and ask you for pictures.
Bring a hotel card if you venture out on your own so you can present to a taxi to return you to your home base.
Buy extra International Data to use your phone to surf the internet. It is helpful for maps, facebook, email, etc... Generally texting is free with most mobile carriers.
Think about using wechat.
Install Skype on your phone.
Don't be surprised if people cut in line in front of you.
Keep your passport with you at all times.
Cultures are different. Respect that.
Spitting, staring, burping or smoking at dinner in a restaurant is not uncommon.
Don't be surprised if you see people that appear to be yelling at each other. Most of the time they are not actually angry.
Tipping is not a thing there. No need to tip. People may chase you down to return a tip. In restaurants there is often a service fee included in the price. Chinese based places will not usually ask for a tip. Western hotels will often add 15% service fee AND add a line for an extra tip. Don't fall for that trap.
Bargaining at the knock off market is normal and expected even when they tell you the price is below their cost.
Pack for the weather. Check it. China is huge. Weather can be different in different areas.
Prepare to walk a lot.
Bring cash to change into local currency. Don't use cash machines unless you need to. Warn your bank you are going to china or you will get blocked.
Western credit cards are not widely accepted. Western hotels will accepts the cards, but local places may not.
Pollution is terrible, yet we don't wear masks when we go.
We never needed any special shots coming from the US or EU to China.
Security overall is very good overall, but use common sense.
---